What types of child seats are available when renting a car in Crete?
June 30, 2022 - Reading time: 4 minutes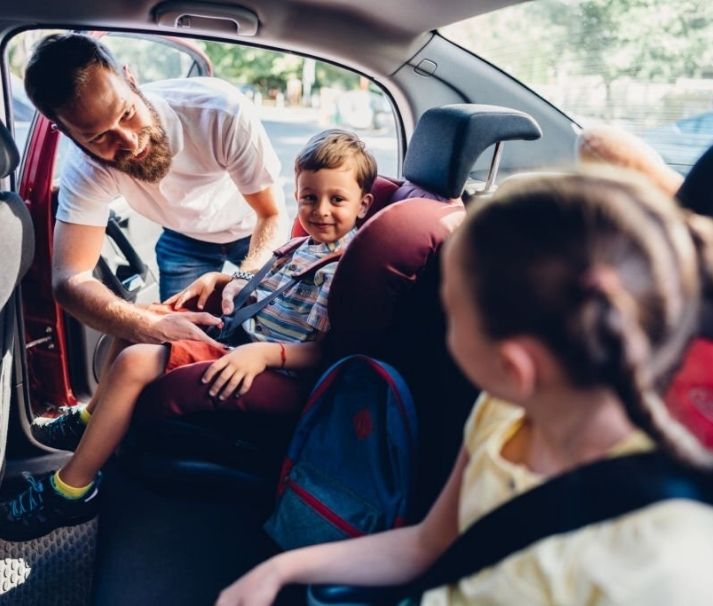 It can be challenging to travel with young children in Crete, but it's essential to make sure they're safe when you're on the road. Children tend to be more vulnerable in car accidents, so it's essential to take precautions and use the proper safety equipment.
One of the most vital things you can do is to choose the right child seat for your hire car in Crete. Not all child seats are created equal, so it's important to choose one that's appropriate for your child's age and size.
Child Seats For Rental Cars
Many tourists prefer to travel around Crete by a rental car. Although taxis and buses are available, a rental car gives you the freedom to explore the island at your own pace. You won't have to stress about schedules or wait in line for public transportation. Whether it's a minivan or an SUV, you're certain to have an easier experience with a rental car.
If you're planning to rent a car during your stay in Crete, you need to make sure you have the proper child safety seats for your kids. Depending on the ages and sizes of your children, you may need one or more child seats. The most common types of child seats are:
Rear-facing infant seat
This type of seat is designed for babies who weigh up to 20 pounds (9 kg) and are less than one year old. The seat should be installed in the back seat of the car, facing the rear.
Forward-facing child seat
This type of seat is for children who weigh between 20 and 40 pounds (9-18 kg) and are at least one year old. The seat should be installed in the back seat of the car, facing forward.
Booster seat
This type of seat is for children who weigh between 40 and 100 pounds (18-45 kg) and are at least four years old. The seat should be installed in the back seat of the car, and the child should use a seat belt.
It's important to note that not all rental cars come with child seats. You may need to request a child seat when you make your reservation, and there may be an additional charge. Be sure to ask about child safety seats when you're making your rental car reservation.
Rent a Child Seat or bring your own?
Some people prefer to bring their own child seats. The cost on carrying one from your home is high as it is considered as a piece of luggage on the airline cost policy. Such cost would be from 20 to 35 euro per piece. That is why, it is better to rent a baby seat with your car rental. Renting a child seat would from 10 to 15 EUR per day. Others, like Justrentals, offer one piece of child seat free of charge.
Installing Child Seats
Once you have the proper child seat, it's a must to install it correctly. All child seats must be properly secured in the car using either the vehicle's seat belt system or the LATCH (Lower Anchors and Tethers for Children ) system.
If you're using the seat belt system, be sure to read the instructions that came with the child seat. Each seat has its own specific installation requirements. If you're using the LATCH system, consult your vehicle's owner manual for instructions on how to properly install the child seat.
Once the child seat is installed, be sure to use the harness straps to secure your child in the seat. The straps should be positioned over the shoulders and across the chest.
For infants and toddlers, it's vital to use a headrest or neck support to keep their heads from slumping forward.
Tips For Traveling With Children
In addition to using the proper child safety seats, there are other things you can do to make traveling with kids safer and more enjoyable.
Here are a few tips:
Plan your route
Before you hit the road, take some time to map out your route. Avoid busy roads and highways, and look for routes with scenic views. This will help keep your kids entertained during the drive.
Make frequent stops
It's important to take breaks often when you're traveling with young children. Stop every few hours so your kids can stretch their legs and burn off some energy. This will help prevent them from getting restless and fussy.
Pack snacks and drinks
Hunger can cause even the best-behaved child to lose their cool. Be sure to pack snacks and drinks for the drive. This will help keep your kids happy and quiet.
Bring toys and games
Toys and playing road trip games are a great way to keep kids entertained during a long car ride. Bring along some of your child's favorite toys and let them play with them in the backseat. You can also pack some travel-friendly games, such as coloring books and handheld electronic games.
Read also:
▹ Visiting Crete With Kids – A Fun Guide For Traveling Families
▹ Can I rent a GPS sat nav with my car hire in Crete?
▹ What type of equipment is available with car rental in Crete?