Why choose Justrentals in Heraklion Airport - Crete
Are you planned to visit Heraklion a few days from now? Be ready and make sure that there will be a car that will wait for you there as soon as the plane touches down. If you look to rent a car but you think your budget is not enough, do not forget that Justrentals, the leading company when it comes to car hire in Heraklion & Heraklion Airport, is here to assist you!
57 different car models to choose from
Brilliant reviews from over 7.000 clients yearly
Easy, transparent & secure (SSL) booking platform
24/7 phone & road service
Delivery & Collection STRAIGHT from/to the Airport
Full Insurance with NO SELF RISK included
Wide Vehicle Selection to choose from
Here at Justrentals, we offer you the best selection of cars for rent. Our fleet includes the most stylish cars for hire that you can get at the most affordable prices. Our cars range from the classic ones to the latest models to choose from. Just name what you want and rest assured that we can offer that to you.
Whether your purpose for being here in Heraklion is to have a wonderful vacation with your family or to meet a very important client or business partner, rest assured that Justrentals is the company that you can always trust for all your needs. We have a wide selection of classy cars for business owners who need a fast and safe transportation. We have different cars with different passenger capacity to accommodate different needs.
Super deals in HER - Airport
| Car Model | Pick Up | Pick up Date | Return Date | Days | Price | |
| --- | --- | --- | --- | --- | --- | --- |
| Toyota Aygo | Heraklion Airport | 25 Jun 19 | 02 Jul 19 | 7-Days | - | Book it! |
| Toyota Aygo | Heraklion Airport | 25 Jun 19 | 09 Jul 19 | 14-Days | - | Book it! |
| Peugeot 107 | Heraklion Airport | 25 Jul 19 | 01 Aug 19 | 7-Days | - | Book it! |
| Peugeot 107 | Heraklion Airport | 25 Jul 19 | 08 Aug 19 | 14-Days | - | Book it! |
| Peugeot 107 | Heraklion Airport | 25 Aug 19 | 01 Sep 19 | 7-Days | - | Book it! |
| Toyota Aygo | Heraklion Airport | 25 Aug 19 | 08 Sep 19 | 14-Days | - | Book it! |
Justrentals is highly dedicated to offering you the best, most enjoyable, comfortable and of course, safety ride ever. Our cars are all regularly maintained to ensure the safety of our dear customers. All models are carefully cleaned every after use to make them ready for every customer. Our cars are equipped with the latest technologies such as sound systems to make you feel even more relaxed while you are on your way to your destination.
How to find Justrentals at Heraklion Airport
We are located just opposite the arrivals hall in Heraklion Airport. We operate 24 hours, although a booking a essential in order to collect your car from this station. Here a small map of our office at Heraklion airport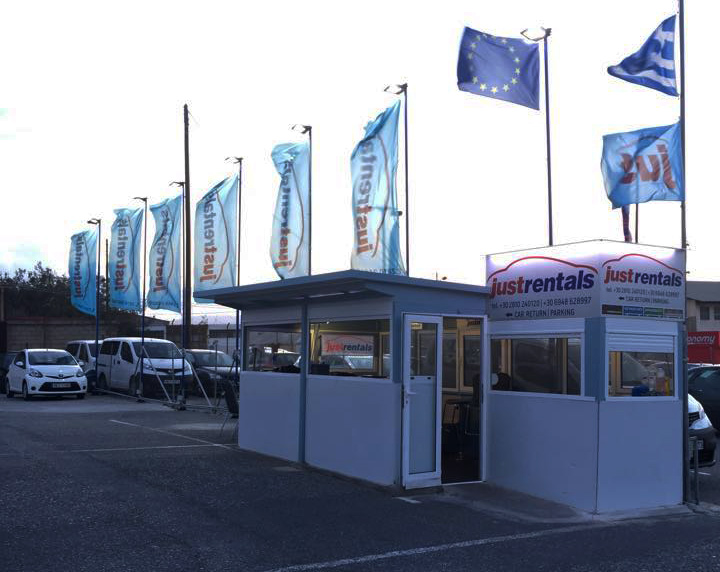 Crete / Heraklion Airport details
Airport Code
HER | LGIR GR
Heraklion International Airport
N. Kazantzakis Airport, Heraklion, 716 01
Justrentals Heraklion Airport Station
Address
Nikos Kazantzakis Airport (HER),
Iraklio 716 01, Greece
Telephone
+30 2810 222550 Telephone hours: 08:00-21:00 (GMT+2)
You can pick-up and return your reserved vehicle 24 hours. A prior reservation is required!
Email
heraklion-airport@justrentals.gr
Sat Nav Coordinates
35.337135, 25.171671
Working Hours
Mon - Sun : 12:00 am - 12:00 am (24 hours)
Book at this station
Nearby POI
Car Hire with Justrentals made Easy
Renting a car has never been more affordable or easier but we at Justrentals will make it easier for you to get the car that is best for your needs and for your budget. Whether you're headed to a vacation or you need a rental car for business, Justrentals has made it easier and much affordable to rent a car to suit your requirements. You may also browse the rental discounts and deal section of our website. You can make use of the protected reservation system so that you can rent the car that you wish to have. So when you are traveling to Chersonissos, Chania or Rethymno, renting a car from Heraklion Airport has never been simpler than from Justrentals.
So what are you still waiting for? Please feel free to contact us today if you have any questions! Avail our latest discounted offers today!